WORSHIP WITH US!
Wednesday Evenings 6:30pm
Southside is a multi-generational Southern Baptist Church located in Mooresville, NC.
Our mission: "To glorify God by striving to turn all people into fervent followers of Jesus Christ."
with Darrell & Dawn Ritchie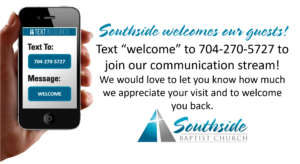 powered by
While September may seem SO far away, we're preparing for an absolutely wonderful night of worship with The Perrys!